Paddington Basin's Bridges in action
Thomas Heatherwick's Rolling Bridge performs every Wednesday and Friday at noon, and on Saturdays at 2pm.
The Rolling Bridge was designed by the award-winning Heatherwick Studio, and installed at Paddington in 2004. The twelve metre bridge is made from eight triangular segments, which fold towards each other, forming an octagonal sculpture that stands on one side of the canal towpath.

Constructed at Littlehampton Welding in Sussex, the Rolling Bridge arrived at Paddington by canal. Since its official opening in September 2004 it has won a Structural Steel Award and an Emerging Architecture Award.

Some lucky visitors might even get a Flicker Book as a souvenir!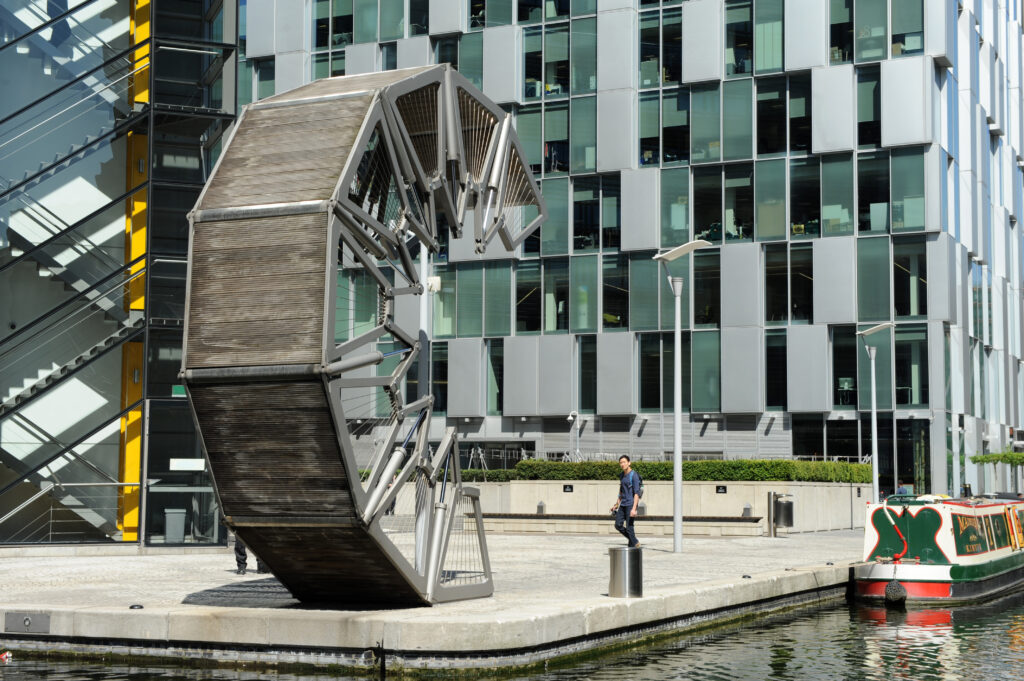 Paddington's newest landmark, the Fan Bridge, is also in action at Merchant Square each Wednesday and Friday at noon and on Saturdays at 2pm.
Designed by bridge specialists Knight Architects, the structure spans 20 metres across the head of the Basin, rising with an action similar to that of a traditional Japanese hand fan.
The deck of the Fan Bridge is made of five beams, which came to Paddington by barge. The beams each open in sequence, with the first rising to an angle of 80 degrees; the four rising to lower levels.