Brunel's Great Western Railway Revealed
Remains of structures built by celebrated engineer Isambard Kingdom Brunel for his Great Western Railway were unearthed by Crossrail near Paddington in April 2014.
Newly excavated by Crossrail as part of the UK's largest archaeological programme, findings include foundations of a 200 metre long engine shed, a workshop and turntables. The structures were used for Brunel's famous broad-gauge railway, which first ran steam trains through the area in 1838.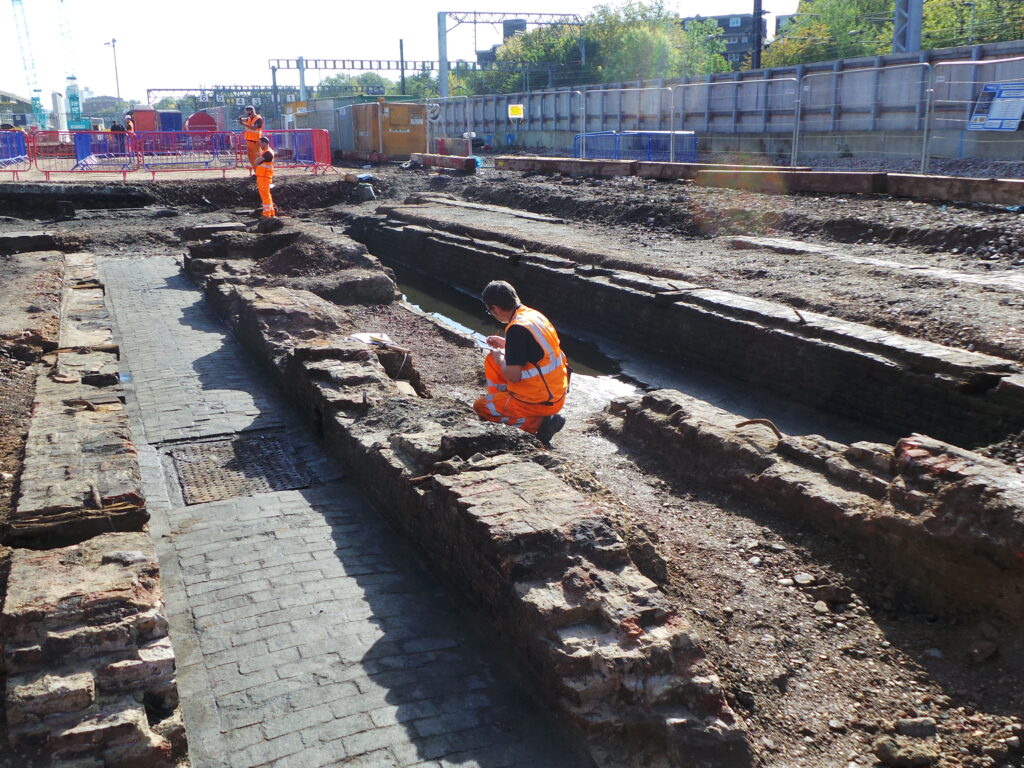 The Broad-Gauge Engine Shed was constructed in 1852-1853 and in use from 1854 when Brunel's new Paddington Station opened and the engineering workshops were moved from the west side of the Bishop's Road Bridge to Westbourne Park, which by the 1890s became known as the Paddington New Yard. It measures 663 ft long (202m) and had four tracks, or roads, with inspection pits running along their full length.
The 45ft turntable dates to 1881-1882 and was constructed by the GWR works at Swindon. It was located at the western end of the Narrow-Gauge Engine shed to which it allowed engines access. Within the brick super structure there was a wrought iron 'turning circle' decked with timber on which both broad-gauge and narrow gauge engines could be turned.
The Engineering Workshop also dates from 1852-1853 and formed part of Brunel and Daniel Gooch's original engine works at Paddington New Yard. The workshop had by about 1895 been extended and four tracks/roads added to create a repair and paint shop at its western end. The workshop also housed coppersmiths, smithy, machine shop, carpenter, offices and stores.
All three of these buildings were demolished in 1906 when the site was redeveloped as a new goods yard for the Great Western Railway.
The Crossrail archaeology team is documenting the remains using laser scans, creating 3D models of the buildings which date from the 1850s and were levelled in 1906 to make way for a goods storage yard. These records will help historians understand the early development of railways in the UK and the methods of Brunel, widely regarded as one of Britain's greatest engineers.