Volunteering case study: IT Skills for the Elderly
"What is Google?" "How do I store a number in my phone?"
For those of you reading this who grew up with or work daily with our constantly updating technological landscape, the above questions may seem ridiculous: How could someone not know? Before answering perhaps think about whether you have, for example, given an elderly relative a smart phone to help them stay in touch. It would be patronising to assume older generations think tablets are only something to take with water but the fear of appearing foolish, and being met with derision, is a huge driver for many older people in not understanding the devices they have been given. This can increase isolation for a large sector of our society, with almost every social interaction and activity requiring IT and online access to arrange.
In order to provide a safe and inclusive environment for such people to get the training and knowledge they deserve, five years ago Time for Paddington was integral in setting-up an IT training programme, to troubleshoot and develop the IT skills of older people. Over the last three years, the scheme has been run at the Penfold Community Hub, part of Notting Hill Housing. Run one day per month, each person gets 1:1 tailored attention. The popularity of the sessions is evidenced in the 64 bookings made at the most recent workshop.
Denis Kane, the Penfold Community Hub Project Manager, was clear when Time for Paddington approached him about what we could help with:
"We were receiving multiple requests for IT assistance and, with limited informal opportunities to gain IT skills available in the community, we could not meet demand; it is vital to ensure digital inclusion for our older generation."
It is evident there is benefit in the less formal learning process as each person can have multiple sessions, problem-solve and build up a level of skill and confidence which may be harder to do in a formal setting. The Penfold Community Hub offers stimulating and accessible activities, as well as advice and counselling services, to over 50s (and/or their carers) in Westminster. They focus on helping people remain healthy, independent and active in their local community. The IT Programme, the social aspect of 1:1 conversation in the sessions themselves as well as the IT skills learned, stimulates and promotes these goals. Denis is keen to point out, however, that the process is not only one way:
"As the teams that come tend to be of the younger, working generation, we have observed many times the importance of the personal connections they make with their older counterparts. Generational groups often know little about one another and may, indeed, have misinformed views – in our sessions this social isolation is addressed with everyone invigorated and educated in tech, and much more."
The community Denis and his team serve is full of diverse, fascinating people with a wide range of experiences. The potential learning from, and giving back to the community in which you live or work, is one of the many reasons companies choose to make the IT sessions their team building days. Costain-Skanska JV, the contractors tasked with building the new Elizabeth Line Paddington station for Crossrail, were keen to be involved. Tom Horton, their Community Relations Manager comments:
"Having held several team building days at the Penfold Community Hub, I have often felt humbled by my experiences. No conversation is the same, no person without their surprises and I have realised how difficult it is to deal with new technology when for most of your life, it did not exist."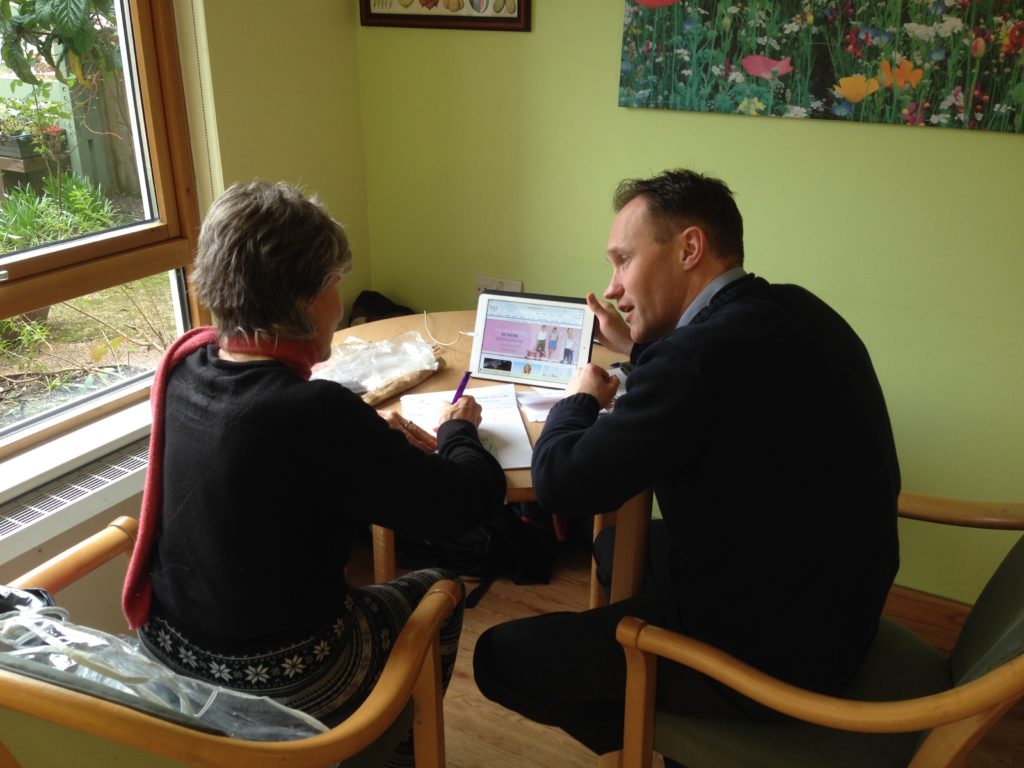 For companies who run their business in Paddington, programmes such as the community IT programme can help their staff develop their communication skills as they need to adapt to their audience. Tom points out:
"When talking with people at the community hub who say they feel "worthless" because they can't work their phone, it serves to drive you to work harder to help them. You find new and ingenious ways in which to explain, to help each person investigate whether the device they have is right for their needs. For example, one person wanted to Skype a relative but the device they had been given did not have that capacity. Since getting the phone, they had thought it was their fault for not understanding."
The programme is run so that each individual is helped to understand the equipment in relation to what they want to achieve, and not to be taught the entirety of its functions.
"It is important that each person feels in control of their own learning and to know it is ok to repeat the discussion of the prior session. There is no time limit on their development" explains Tom.
We need more companies to be involved in this scheme to ensure consistent, regular sessions. The Penfold Community Hub carry out all the scheduling, teams just have to turn up on the day and will be given a briefing session in advance. Volunteers do not have to be IT experts as showing people how to use Google, or asking a colleague, can be just as valuable. The questions posed at the sessions range in complexity but never go outside what is normal day-to-day use for those who work in offices.
If you would like to volunteer locally, please get in touch with Emily Shaw, Paddington Community Programme Manager.