Canalside Live Music Series
With restaurants and pubs now able to serve canalside and GoBoat London up and running once more, the Paddington Partnership has teamed up with Busk in London to bring live music to Paddington's canalside on weekends. Every Saturday and Sunday from 17 April to 23 May, musicians will perform live, as diners eat out and enjoy Paddington's canalside amenities.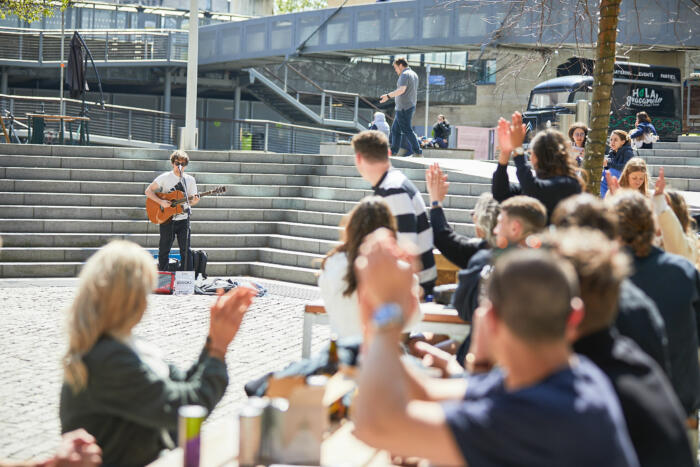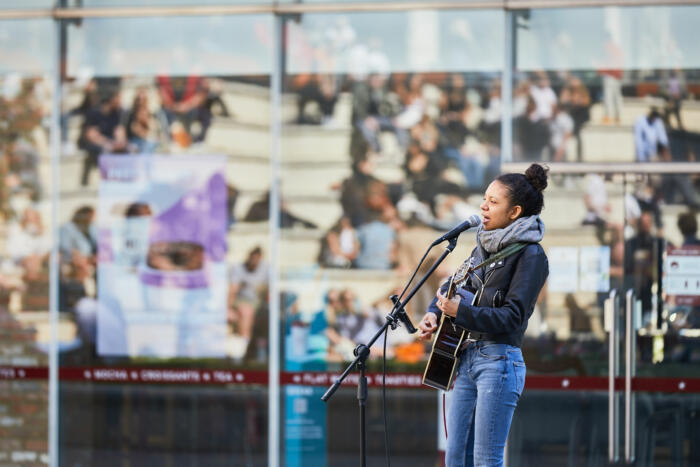 The scheme, supporting London's musicians, will see musicians at the West Plaza at Merchant Square, next to the M&S Simply Food Waterside store and at Sheldon Square, Paddington Central. Over the series, different sites will be trialled, spreading the joy of live music across the district.
In Sheldon Square on Saturday 22 May, musicians will perform at 12 noon and 3 p.m.
Clarissa Mae - is an 18 year old singer songwriter born and based in London. At just 13 Clarissa Mae was crowned champion and the youngest winner of GIGS 2016, the Mayor of London's busking competition. Born into a family of musicians, music has always been a part of Clarissa Mae's life. Gigs have included Royal Festival Hall, V&A Museum and Trafalgar Square. Clarissa Mae was chosen to participate in the BBC Lockdown Orchestra for the BBC's Lockdown Video project.
Tony Bowen – has been playing on the music scene in London for over 10 years. During lockdown he honed his song-writing and loop pedal skills and is raring to get back out there playing five nights a week. Expect covers and originals from Tony, getting Paddington dancing and singing along.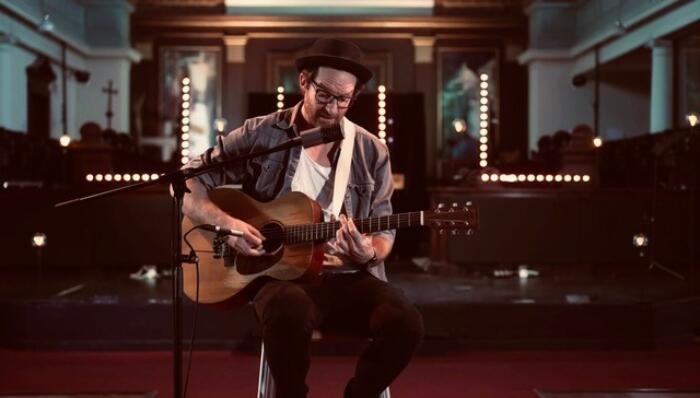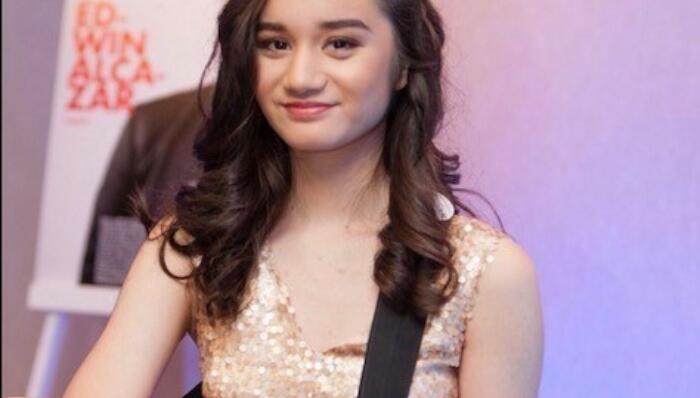 In Merchant Square's West Plaza on Sunday 23 May, musicians will perform at 12 noon and 3 p.m.
John Clapper - is a guitar/vocalist from Manchester who's spent the last three years travelling the globe performing for audiences as far reaching as Australia and Japan. This kind of diverse gigging schedule has led to John developing a huge and varied repertoire. Go ahead just shout out your favourite song and John will more than likely jump right into it! John loves an interactive gig so feel free to get up, dance and lose your voice singing along. Coming up in the music world performing in bands, John has a long history with rock & pop music. Influences from the Beatles, Queen and Led Zeppelin all the way up to your most modern dance floor fillers like Bruno Mars, Beyonce and Ed Sheeran. What's more, John has developed a unique looping technique that takes you right into the heart of the song with no waiting around. Expect to hear beatboxing, harmonies and ripping guitar solos all with one guitar, a microphone and zero backing tracks.
Lucy Mae Walker – is a singer/songwriter from Worcestershire. Lucy May's debut EP, Heartbreak Songs, reached No. 3 on the iTunes Singer/Songwriter chart, receiving numerous plays on BBC Introducing across the Midlands. Lucy May was invited to perform live on BBC Radio 2 after Jeremy Vine spotted her busking in London. Vine described Lucy as "just brilliant" on the show which was listened to by more than 7 million people. Following this, Lucy went on to perform on his Channel 5 TV talk show and in 2021 Jo Whiley followed suit and played her latest single 'Broken Home' on her BBC Radio 2 show. Lucy May has sold out headline shows across the UK and has supported the likes of Tom Speight, Lucy Spraggan and Wet Wet Wet. Lucy has very impressive streaming numbers with over half a million streams on her single 'Safety Net' alone.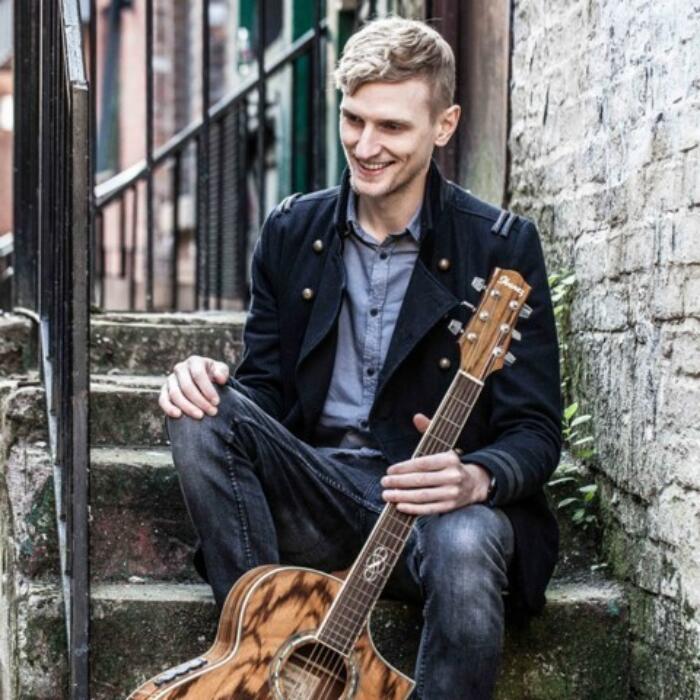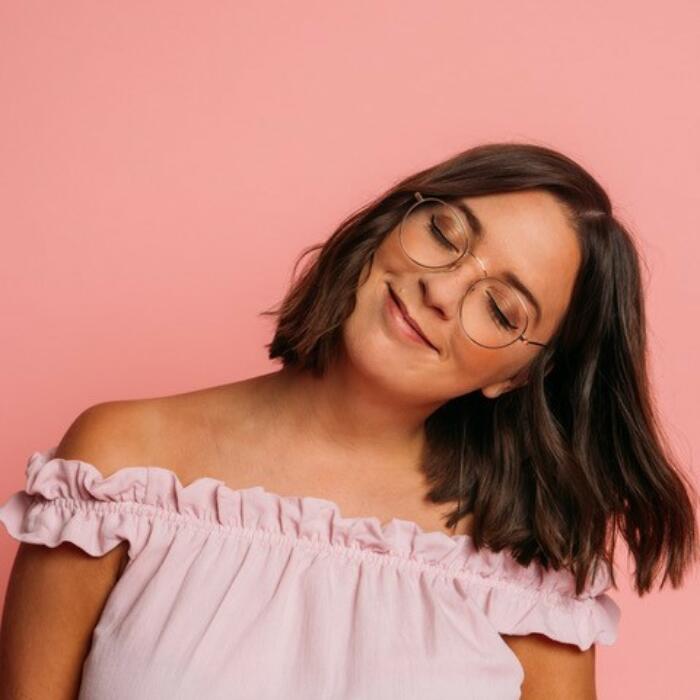 To support the musicians, they have been paid in advance, but if you like what you hear, do feel free to donate using the handy card reader, it's been a tough year for artists.

Performances will take place from 12 noon to 2.30 and then from 3pm to 5.30 pm. With thanks to Busk in London and the teams at Merchant Square and Paddington Central.